I SODI DI S.NICCOLO' 2013, FIRST ITALIAN RED WINE ACCORDING TO THE LEADING NATIONAL AND INTERNATIONAL WINE GUIDES
I Sodi di S. Niccolò 2013 has achieved the title of "Best Italian Red Wine" 2018 based on the sum of the scores collected by the main Italian wine guides – Gambero Rosso, Bibenda, Veronelli, Daniele Cernilli, Luca Maroni and Vitae – integrated with the ratings of the most influential international magazines: Robert Parker, James Suckling, Antonio Galloni and Wine Spectator.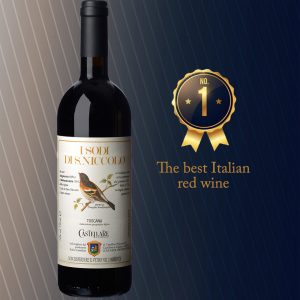 The initial score of 572 points collected from the italian guides, has been increased with the excellent scores given by Robert Parker (96), James Suckling (95), Antonio Galloni (95.5) and Wine Spectator (90), leading I Sodi di S. Niccolò 2013 to the absolute primacy among the italian red wines.



An important acknowledgement that, once again, confirms the sublime grandeur of Sangioveto (Sangiovese clone born from the first experimental vineyard in the Chianti Classico area, thanks to the partnership with the University of Milan and Florence and the San Michele all'Adige Institute) accompanied by Malvasia Nera.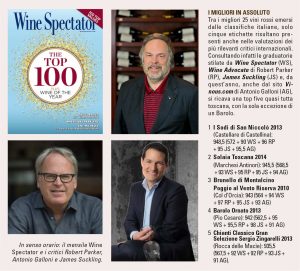 The complete ranking (image on the right), shows the podium of the first 5 Italian red wines:
1 – I Sodi di S. Niccolò 2013 with 948.5 points
2 – Solaia Toscana 2014 with 945.5 points
3 – Brunello di Montalcino Poggio al Vento Reserve 2010 with 943 points
4 – Barolo Ornato 2013 with 942 points
5 – Chianti Classico Gran Selezione Sergio Zingarelli 2013 with 935.5 points

"2013 has been a perfect year for I Sodi di S. Niccolò – says Alessandro Cellai, chief winemaker and CEO of Domini Castellare di Castellina group – because all the crucial phases for the development of the plant, from flowering to fruit set, from ripening to maturation, have been accomplished in an optimal manner. We are proud of this excellent result which is also due to a scrupulous work in the vineyards according to the climatic conditions of the season".

But how was the unusual name of this wine born? The word Sodi was used by the Tuscan peasants to describe those terrains that had to be hand-worked, being too hard (so that sodi) or too steep to allow the use of oxen, unlike the fields, that are more easily cultivable soils. Then, the name San Niccolò is derived from the Church of 1300s that rises in the property of Castellare around which the vineyards are located.

Tags: Castellare di Castellina, I Sodi di S. Niccolò, Red Wine, Super Tuscan