I SODI DI S. NICCOLÒ 40 HARVESTS – LIMITED EDITION AUCTIONED WITH A PRECIOUS ART BOOK
Sold at a record price at Pandolfini auction, the Super Tuscan by Castellare will be auctioned at Christie's on December 2 and 3 in the rare formats of 15 and 18 L accompanied by a precious art book with illustrations of the 40 birds depicted on the labels of the first 40 vintages.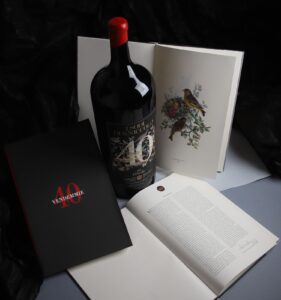 As evidenced by the result of Pandolfini auction, I Sodi di S. Niccolo 2017 – 40 Harvests, the limited edition released by Castellare di Castellina to celebrate this important anniversary, is one of the most sought-after fine wines by collectors and connoisseurs. In fact, during the auction held in Florence on 12 November, a special format of 15 L achieved the highest price among the Italian wines auctioned.

Lot 344, consisting of a 15 liters of I Sodi di S. Niccolò 2017 – 40 harvests, accompanied by an art book printed in the press reproducing the 40 birds drawn by the ornithologist / artist John Gould (1804-1881 ) and depicted on the labels over the years, reached 4,800 euros, almost doubling the highest estimate price (1,400 / 2,800 euros). An important result for the flagship wine of Castellare, one of the very few Super Tuscans made exclusively with native vines: 85% Sangioveto and 15% Malvasia Nera from the two best Crus of the historic company located in Castellina in Chianti.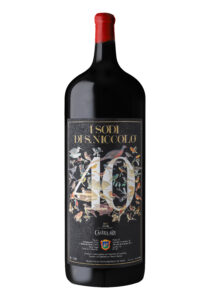 "The outcome of this important auction dedicated to collectible formats – explains Paolo Panerai, journalist, editor and President of Castellare di Castellina – confirms that the world of fine Wine & Spirits continues to attract investors and collectors, but above all that Italian wines are increasingly winning the interest of enthusiasts and of those who consider them a good investment ".

After Pandolfini, the prestigious Christie's auction house will beat two lots of I Sodi di S. Niccolò 2017 – 40 Harvests (n ° 895 and 896) composed respectively of a 15-liter and an 18-liter limited edition accompanied by John Gould's art book. The auction will be held on 2 and 3 December starting from an estimate price of 1,400-1,800 pounds for the 15-liter and 1,600-2,000 pounds for the 18 liter.

Below the link to sign in and bid: https://www.christies.com/lot/lot-6348237?ldp_breadcrumb=back&intObjectID=6348237&from=salessummary&lid=1

Tags: Castellare di Castellina, Christie's auction, I Sodi di S. Niccolò, Pandolfini Casa d'Aste, Supertuscan