VINOUS TOP RATINGS FOR THE NEW VINTAGES OF ROCCA DI FRASSINELLO'S RED WINES
From 96/100 pts to Baffonero 2017 described as "faboluos" to 94/100 pts to Rocca di Frassinello 2018, the wine critic Antonio Galloni awards Rocca di Frassinello new vintages.

"I was deeply impressed with the wines I tasted this year from Rocca di Frassinello. The flagship Merlot Baffonero, has been superb in several tastings over the last handful of months, which is pretty remarkable considering all of the challenges presented by the 2017 growing season". With these words, Antonio Galloni, founder of Vinous and considered as one of the most independent and influential wine critics in the world, explains the excellent scores awarded to Rocca di Frassinello's red wines. "The 2018s vintages of the other wines are consistent across the board" underlines Galloni.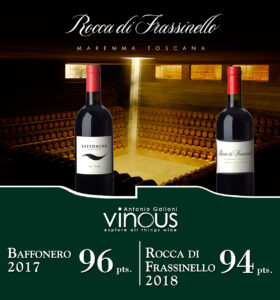 Starting from the amazing 96 pts to Baffonero 2017, the flagship 100% Merlot of the winery, that Galloni does not hesitate to define as "fabulous". "The 2017 vintage – explains the critic – balances power, silkiness and depth with tons of stylishness".

Excellent score also for Rocca di Frassinello 2018, the winery Grand Vin which gets 94 pts. Described as "a bold, exotic wine", for Galloni the new vintage is "decidedly racy".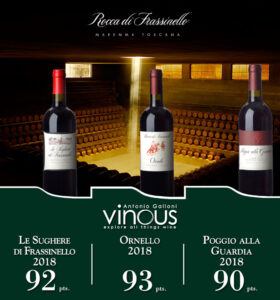 93 pts is the score for Ornello 2018 that, according to the critic is "once again, one of the more intriguing wines in the range in 2018". "Ornello has a brooding dimension to its personality that the other wines don't have", adds Galloni.

Finally, a score of 92 pts goes to Le Sughere di Frassinello 2018, defined as "aromatic and light on its feet", while Poggio alla Guardia 2018, the entry-wine of the range, gets 90 pts and is described as "soft, succulent and very easy to like".

Tags: Antonio Galloni, Maremma Toscana, Ratings, Red Wines, Reviews, Rocca di Frassinello, Supertuscan, Vinous