David LaChapelle and DCC
Rapture of the Grape is a work born of a special collaboration between Rocca di Frassinello and David LaChapelle, the American photographer and artist of Lithuanian origin, pupil of Andy Warhol and master of beauty and communication.
In the summer of 2013 LaChapelle, invited by Beatrice Panerai to be the guest of Castellare di Castellina and Rocca di Frassinello, fell in love with the Tuscan countryside, its vineyards and the people who live and work there. As soon as he got back to his Los Angeles studio after his trip to Tuscany, the inspiration felt by the man described as "the Fellini of photographers" was immediate. "I just have to express pictorially all the respect for wine and its history, as well as the aesthetics, humility and pursuit of perfection, identical to that of creating art, that I felt among the people working in the winery designed by Renzo Piano", says LaChapelle, who embraced the Rocca di Frassinello project both in its international dimension and in its deep bond with the land of Maremma. A DNA made up of land and culture that, according to LaChapelle, must be the road of the future towards a true Renaissance.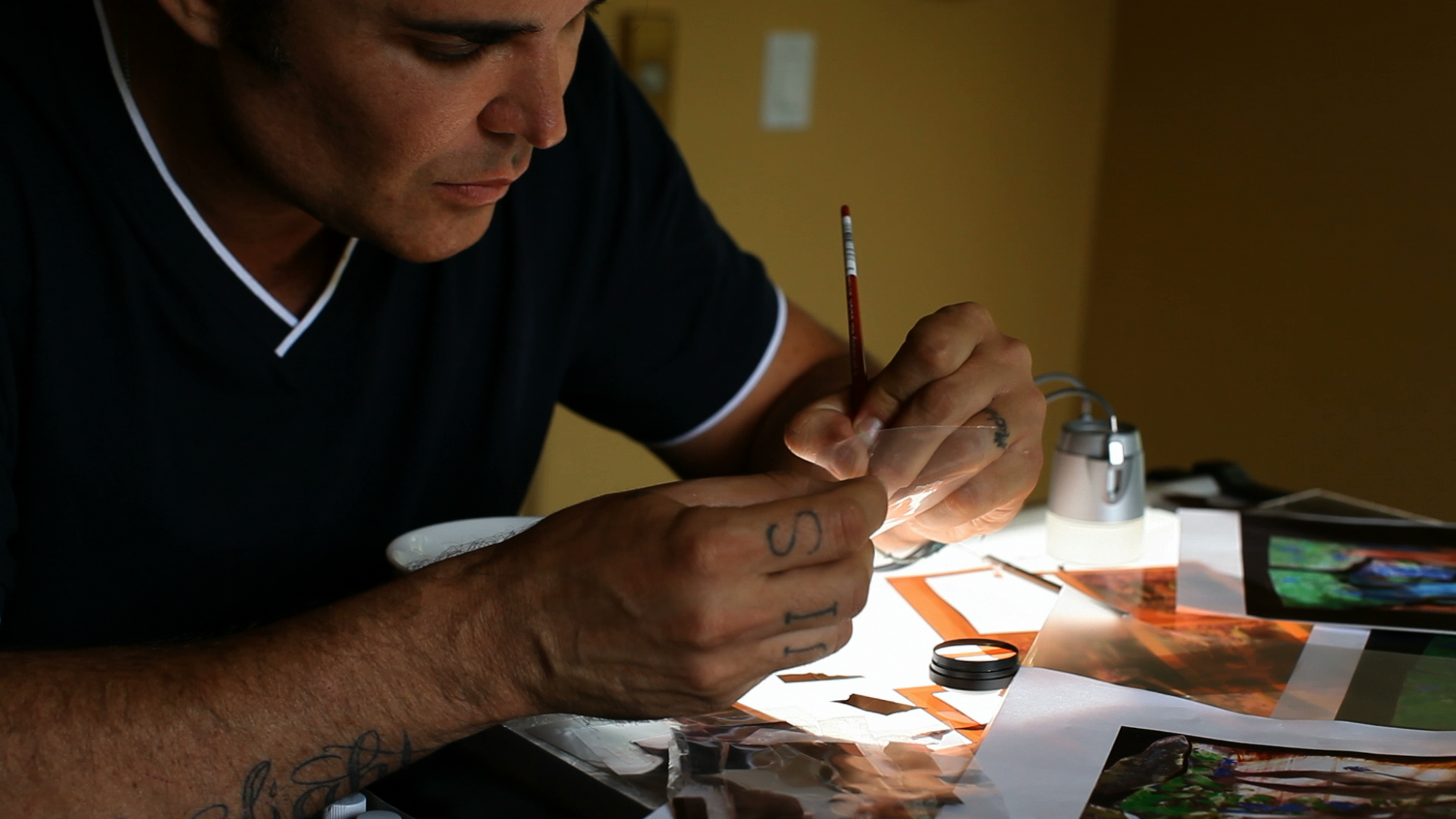 This is how Rapture of the Grape came into being. A work created with full freedom of expression, and not commissioned by the winery. Rather a natural exchange between the creativity of the artist and the wines, to celebrate the first 10 vintages of the Maremma winery.

The work is permanently exhibited at Rocca di Frassinello. "Rapture of the Grape" plays with the warm, bright colours of the Maremma, representing the ecstasy of grapes from the vine to the spirit, in an ode to wine which saves and illuminates like the divine and like art.
The technique used is revolutionary, revisiting LaChapelle's experimental period of the nineteen-eighties. The work marks the return to a slow, analogical way of working, like that of vinification, by cutting colour negatives to echo the cutting of grapes by the winemaker, and then assembling these with sticky tape and painting them by hand in a final collage that alludes to the blending of Rocca di Frassinello. The sticky tape detail, intentionally visible in framing the work, reveals the hand and craftsmanship of the artist.
For the limited edition in large bottles the glass of the bottle becomes the supporting canvas for the concept of Rapture of the Grape, which colours and animates it like a cathedral rose window by fusing the black backgrounds of the work and bottle in a triumph of technique and aesthetics.