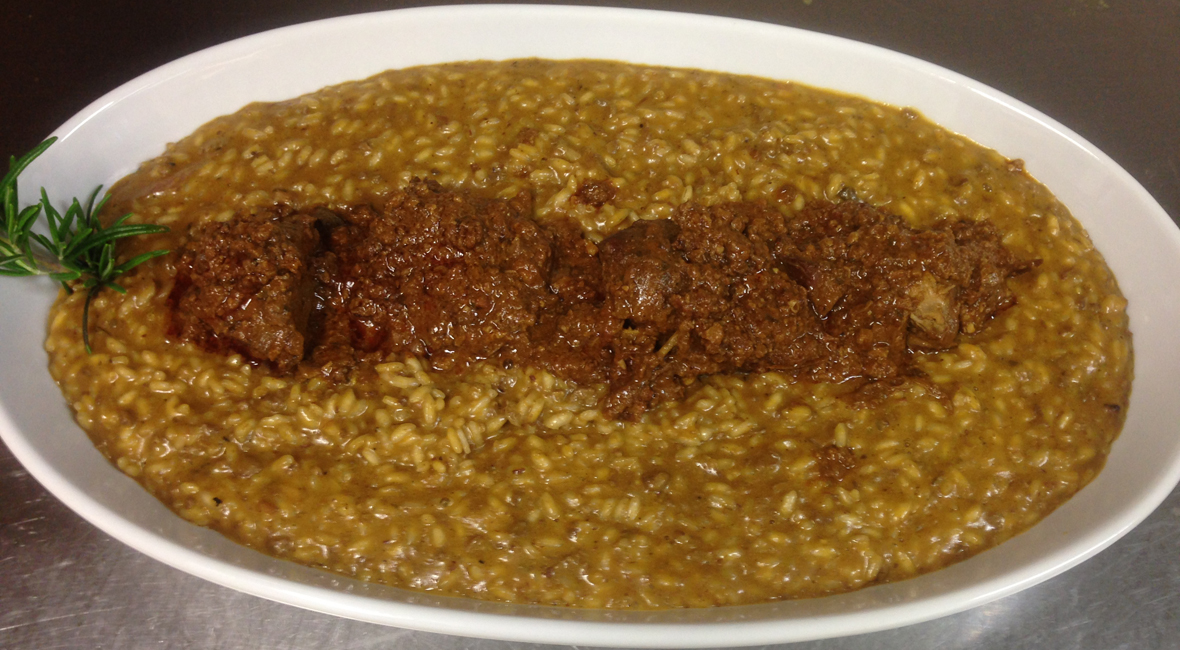 Chianti pigeon risotto
Suggested wine pairing:
CHIANTI CLASSICO produced by Castellare di Castellina

Only native vines, remaining true to the original formula of this great wine. A point of pride for Castellare di Castellina.
Chef MIRELLA VERDIANI Ristorante La Torre Castellina in Chianti (SI)
Ingredients for 6 people:
2 pigeons (approximately 600 g each)
2 glasses of Chianti Classico Castellare wine
3 tablespoons tomato paste
100 g Pecorino cheese
50 g butter
360 g Vialone Nano or Carnaroli rice
1 litre meat broth
100 g Tuscan rigatino bacon
celery
onion
1 clove of garlic
sage
parsley
salt and pepper to taste
Preparation of the dish:
Prepare the fresh pigeons by plucking and gutting them and passing over a flame to remove the last remaining impurities. Place the birds in a pan and season with salt, pepper, sage and olive oil on the inside. The dish is ready for a first cooking phase which involves browning the pigeon for approximately 10 minutes on each side. Finely chop together the onion, parsley, celery, garlic and rigatino bacon. Add the chopped mixture to the pan to flavour the pigeons and allow it to simmer for approximately 15 minutes. If needed add a ladle of broth. Also add the bird entrails (cleaned, washed and minced) and allow them to stew before adding two glasses of Chianti Classico Castellare. Leave the pan on low heat to evaporate the alcohol and wait a few minutes before adding three tablespoons of Florentine tomato paste dissolved in broth. When fully cooking, transfer the pigeons to a plate, drain and cut into quarters. Add the rice to the remaining sauce and cook it like a normal risotto. When fully cooked, flavour the rice with mature Tuscan Pecorino cheese and a small piece of butter. Serve the risotto in a casserole dish arranging the quarters of pigeon on top.