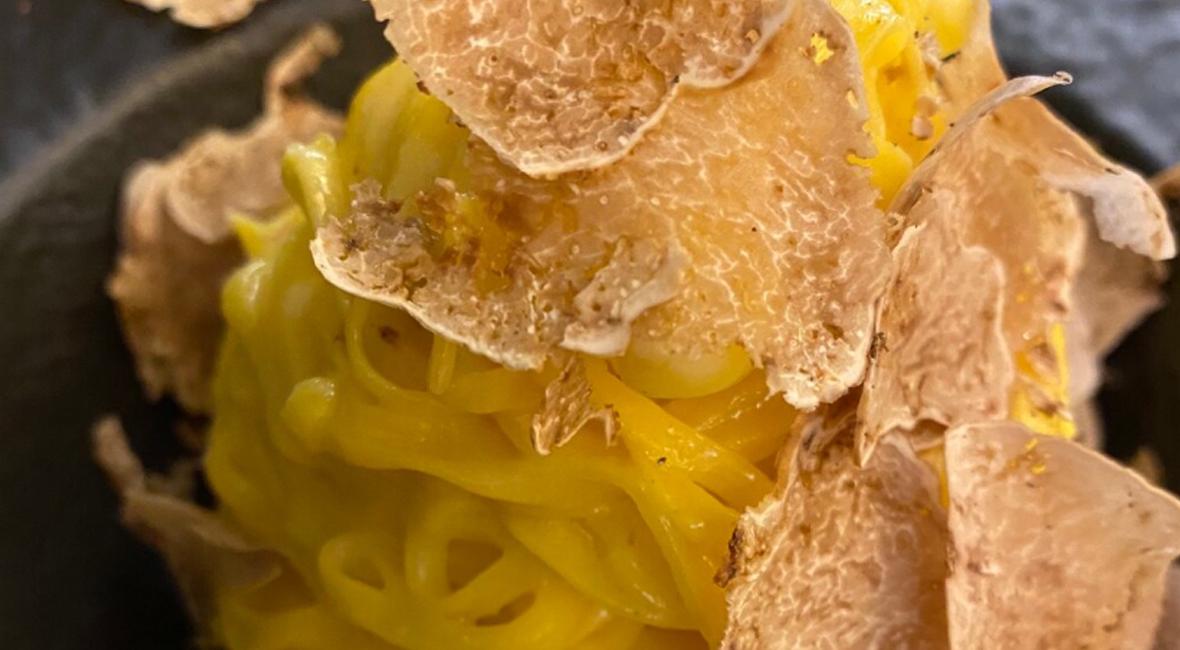 Tagliolini with white truffle
Suggested wine pairing::
BAFFONERO produced by Rocca di Frassinello

Uncompromising quality, producing every year just a few bottles of pure Merlot to challenge his majesty Masseto.
Chef LUCA ISIDI Ristorante Da Rinaldi in Quirinale (RM)
Ingredients for 4 people:
500 g fresh tagliolini
100 g butter
80 g white truffle
Salt to taste
Ingredients for the fresh tagliolini:
300 g '00' flour
3 large eggs (approx. 70 g each)
Salt and oil to taste
Preparation of the fresh tagliolini:
Sift the flour on the work surface and create a hole in the centre where to add the eggs, oil and salt. Whisk the ingredients with a fork or a spoon and continue with your hands in a circular motion, bringing the flour from the outer edges towards the centre. Continue working the dough vigorously, pulling with the palm of your hand and turning the dough on itself, until it is smooth and compact. Form a ball of dough and wrap it in plastic wrap, place it in the fridge and let it sit for at least an hour. After it has rested, roll out the dough using a rolling pin and form uniform and thin strips of pasta. Allow to dry before folding each strip onto itself, forming three layers, and cut into strips measuring approximately 1 cm from the shorter side. Space out the noodles from each other with your hands and sprinkle with a small amount of flour.
Preparation of the dish:
Cook the tagliolini in a pot of boiling water and at the same time melt the butter over low heat in a large pan with high sides. Drain the tagliolini a few minutes before fully cooked and add the pasta to the pan, blending on low heat. Finish cooking the pasta, arrange on a plate then add the finely shaved white truffle (quality grade). Very thin pasta and finely shaved truffle will offer a dish characterised by a perfect balance of flavours and aromas.