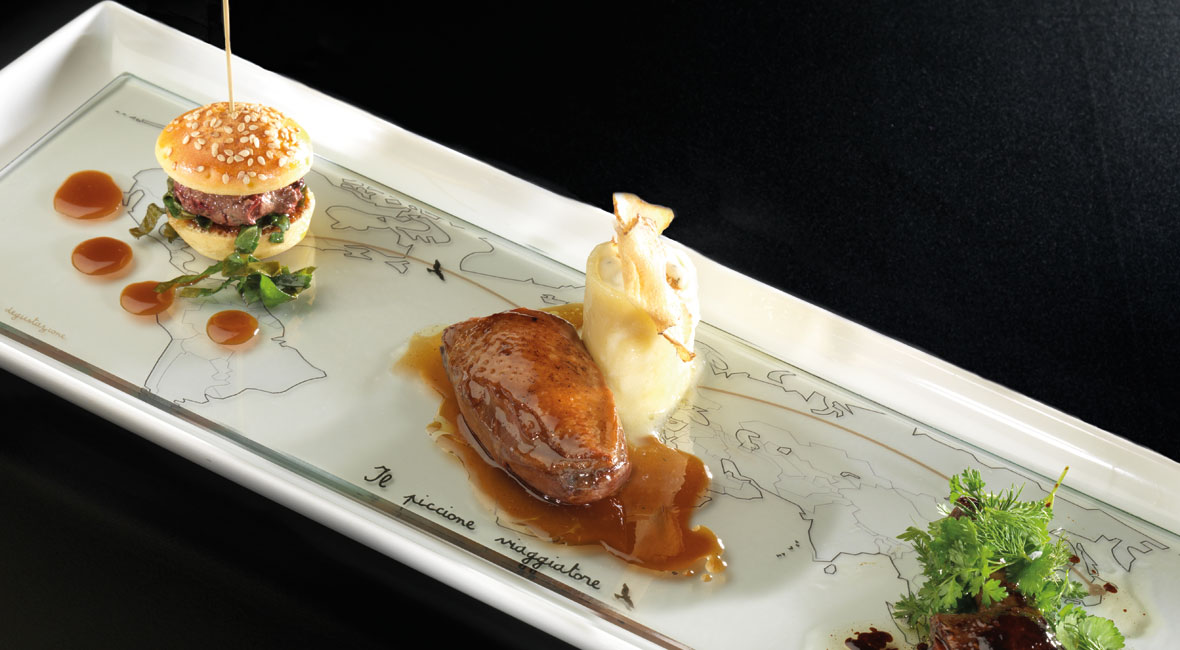 Rock pigeon
Suggested wine pairing:
I SODI DI SAN NICCOLÒ produced by Castellare di Castellina

The Castellare di Castellina standard bearer. Only native vines, Sangioveto and Malvasia Nera, for the first Italian wine in Wine Spectator's TOP 10 ranking.
Chef CHICCO CEREA Da Vittorio restaurant in a Brusaporto (BG)
Ingredients for 4 people:
Ingredients for the burger:

500 g pigeon breast
20 g softened butter
1 tablespoon mustard
Cream, salt, pepper, bread crumbs to taste
Wood sorrel
300 g mou sauce
80 g foie gras

Ingredients for the paccheri filling:

500 g cream
1 boiled potato
3 g xanthan gum
Truffle oil
Minced truffle
Chopped asparagus

Ingredients for the glassage:

50 g soy
50 g balsamic vinegar
Ginger
Garlic
Soy
Sesame
Honey
Hazelnut paste

Ingredients for the mou:

500 g sugar
350 g cream
200 g foie gras

Ingredients for the pigeon breast:

4 breasts
4 slices of foie gras (15 g each)
Preparation of the burgers:
Finely chop the breasts using a meat grinder and add all the other ingredients except the sorrel and the mou. Make mini burgers.
Preparation of the mou:
Melt the sugar in the cream, caramelise and finally add the foie gras.
Preparation of the pigeon breast:
Make pockets in the breasts, add the slices of foie gras and cook at 65 °C for 20 min in a vacuum ronner.
Preparation of the glassage:
Reduce the cream by half, add the potato, the xanthan gum and mix. When the mixture reaches the desired consistency add the asparagus and the minced truffle. When plating, fill a pacchero using a pastry bag.
Preparation of the glazed thighs:
Sear the thighs in a pan and finish cooking in the glassage.