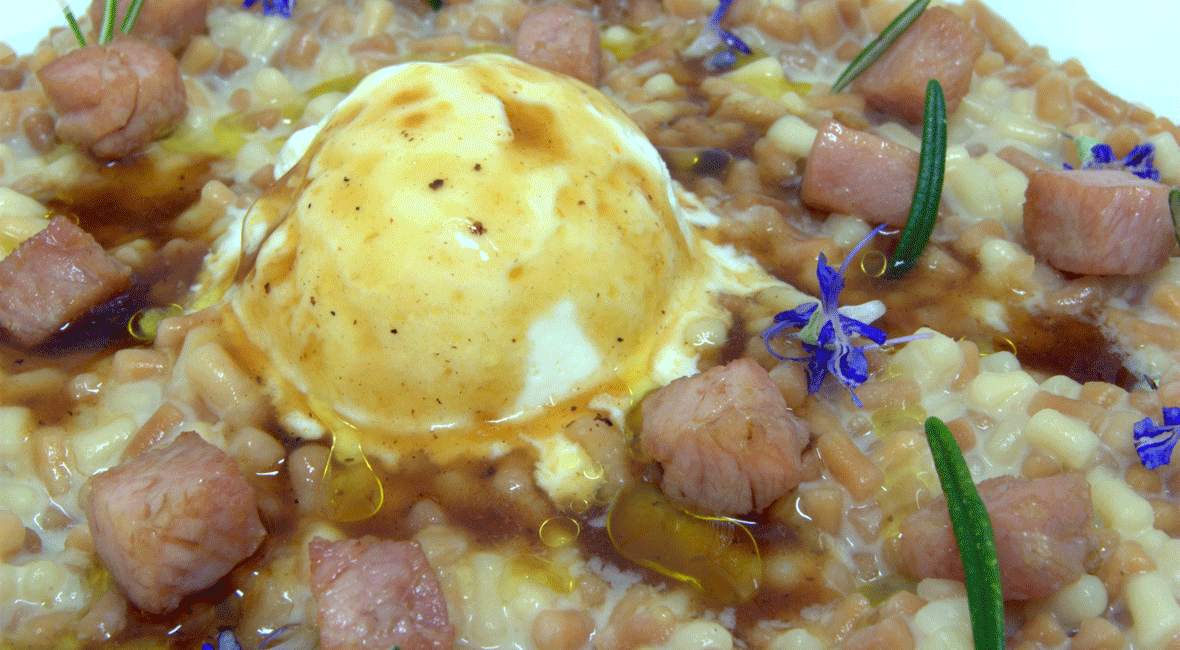 Corallini risotto and seared piglet bites with spices and young Ragusano cheese gelato
Suggested wine pairing:
VERSACE NERO D'AVOLA produced by Feudi del Pisciotto

The Prince of Sicilian vines. Elegant and harmonious.
Chef CLAUDIO RUTA Ristorante La Fenice di Ragusa (RG)
Ingredients fot 4 people:
Ingredients for the corallini risotto:
800 g vegetable broth
280 g corallini
40 g extra virgin olive oil
20 g minced shallots
16 g white wine
40 g liquid cream
12 g semi-mature Ragusano cheese
24 g brown veal stock
120 g cubed piglet pancetta
65 g Ragusano gelato
Rosemary needles and flowers
Ingredients for the bronzed corallini:
500 gr durum wheat flour
190 g water
8 g salt
4 g extra virgin olive oil
Ingredients for gelato:
300 g whole milk
140 g semi-mature Ragusano cheese
Preparation of the gelato:
Pour the milk in a saucepan and bring to a boil. Add the chopped Ragusano cheese, allow the mixture to melt and put in the fridge to cool. Place the cooled mixture in an ice cream machine.

Preparation of the bronzed corallini:
Prepare the dough by combining the ingredients specified above and shape the corallini using the special bronze die.

Preparation of the dish:
Cook the corallini as a traditional risotto in hot water and vegetable broth, adding water and wine little by little a as the pasta cooks and expands in shape. Combine the seasoning ingredients. Serve in large round plates with toasted pancetta cubes, the Ragusano gelato and the brown veal stock. Garnish with the rosemary and flowers.